Transition Information
Preschool to School
At Loxton Primary School we have an extensive Transition Program with Loxton Preschool. 'Big Buddies' are Year 5 students who have been elected to assist the preschool students with their transition to our school. The Big Buddies write letters to their buddies and then visit the Preschool with our Leader of Wellbeing.
The Big Buddies assist their little buddies when they come for their 1st, 2nd and 3rd transition visits to our school. They then continue to help with the new receptions as they begin school the following year.
Parents and Caregivers are invited to attend an Information session with our School Leadership Team and Reception teachers.
Reception transition information for the 2023 cohort is listed below.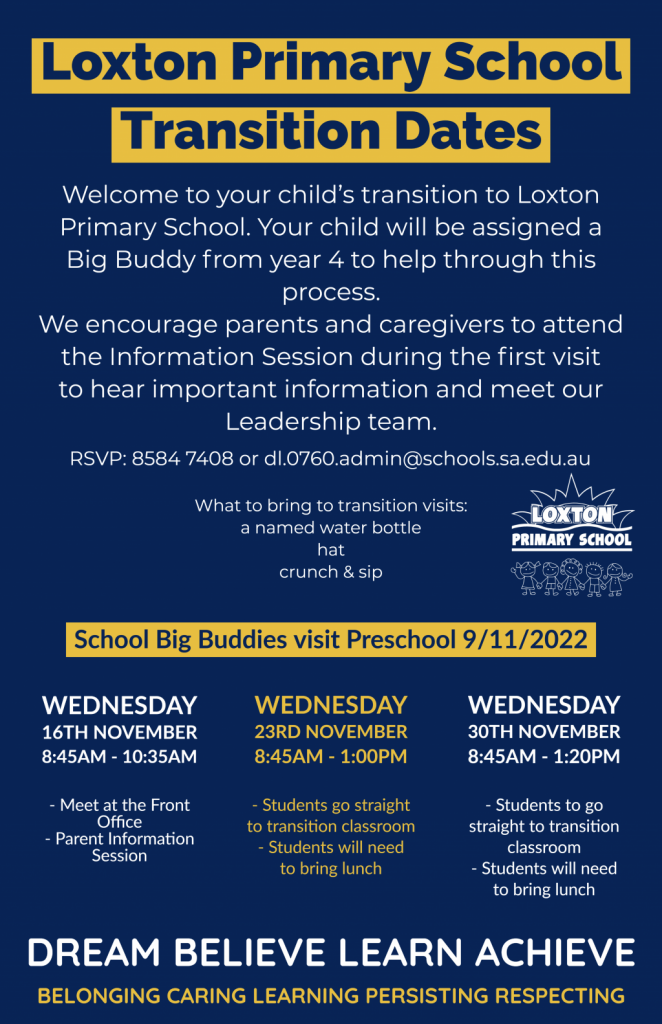 In 2024 we will welcome new reception students in Term 1 and in Term 3. More information regarding the double intake will be released later in 2023.
Primary School to High School
Our Leadership Team, Wellbeing Team and Upper Primary teachers work closely with Loxton High School to ensure a smooth transition from Primary School to High school for all our students.
Students attend Transition Days at the High School, and an Information Night is held for parents and caregivers of students in Year 6.
Year 6 transition dates for students going into year 7 in 2024 are as follows:
Orientation morning - Thursday 14th September 2023
Back to back transition days - Tuesday 28th + Wednesday 29th November 2023