School Facilities
Buildings and Grounds
Our school is located on large grounds which include a large grassed oval, outdoor stadium, shaded nature play area, and 2 playgrounds. We have 3 large brick buildings, a flexi-unit, School Hall, and the former School House (which is now used by OSHC). All teaching areas are air-conditioned.
Specialist Facilities
Garden
Kitchen
Wellbeing room
Computer room
STEM room
Outdoor Sports Stadium
School Hall
OSHC onsite - Happy Haven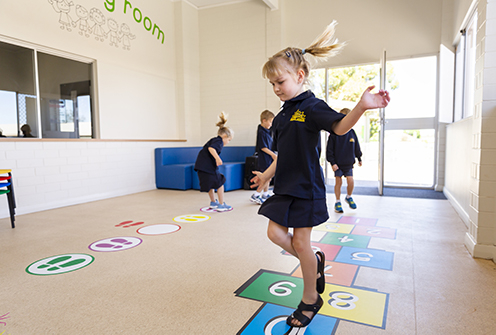 Student Technology
Every classroom has electronic screens to ensure delivery of lessons in an engaging and interesting manner.
All students have access to a Computer Suite, Laptops and iPads to enhance learning. When studying Technologies, our early year students utilise Bee Bots and our middle and upper primary students develop their coding skills using contemporary Robotics.
Canteen
Grab and Go lunch orders can be ordered through the Qkr! app before 8:00am on Monday, Wednesday and Friday during term time.
Our School Student Leaders also run a 'Snack Canteen' on Tuesdays and Thursdays. Items for sale include Ice blocks, Ice creams, Drinks and Snack Packs.
Breakfast Club
Our Pastoral Care Worker, along with our Student School Leaders and volunteers, operate a Breakfast Club on Monday mornings. All students are welcome to come in for a bite to eat and a chat.
Out of School Hours Care - Happy Haven
We outsource our Out of School Hours program to Happy Haven OSHC. Happy Haven run Before School, After School and Vacation Care. They also offer care on Department for Education Student Free Days.
Special Access
We have access for staff and students with disabilities- including a disabled toilet/ shower and ramps to give access across the whole school.
Bus Transport
Students living more than 5kms from our school have access to the School Bus. Please ask for more information from our Front Office.
School Times - Monday, Tuesday, Wednesday, Friday
Early Dismissal Thursday 2:10pm
---

8:45
School Commences
8:55
Lesson 1
9:45
Lesson 2

---

10:35
Lunch

---

11:20
Lesson 3
12:10
Lesson 4

---

13:00
Recess

---

13:20
Lesson 5
14:10
Lesson 6
15:10
Dismissal